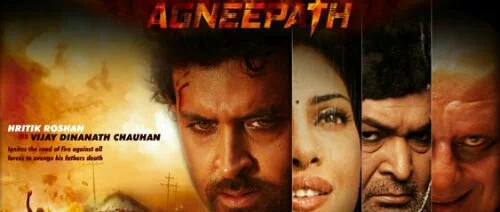 The remake of the 90's cult movie – Agneepath might have sounded like a bad idea on paper. After all, it is so deeply embedded with the strong presence of a performance which defined the star, and the star which defined the movie. Amitabh Bachchan's white suited, guy-liner endorsing gangster, might have been a 90's take on the many smuggling movies of the 70's – viz. Don and Deewar. But what made Agneepath different then, was its no holds barred, self destructive protagonist, who is solely driven by revenge. How could one recreate that? Debutante director Karan Malhotra has the answer for that. And the answer is .. not to recreate *that*. 2012's Agneepath is a remake of the 90's original in as much way as Ram Gopal Varma remade the Godfather into Sarkar (and Sarkar Raaj). It does not attempt to shift the time scale and create similar scenes/situations existing in a parallel universe, re-enacted by a different group of actors. Instead, it redefines the dynamics, the relationships and the narrative to a certain extent, and yet, pays tribute to the presence of the original. And THAT is how you remake movies – not by driving your script to make more cash, but by making your characters come back to life..or rather offer a new life to your characters.
By now you must have got it that I loved this movie, despite a few silly unwanted additives. But when the end product is so damn good, who am I to complain. Hit the jump, as I discuss a bit more in details, and of course will be making some comparisons with the original [inevitably].  SPOILER ALERT
We know of the plot already, as I believe most of you have either seen the original, or the new one, or even both (like me). So, I'll try to skim the fat, and get straight to the point.
#1. The first thing that Karan Malhotra's version instantly establishes is how Mandva works. It is a village, on an island, and ruled by a Zamindar. And most importantly, Master Deenanath Chauhan is not a dumb self-righteous dude. But he's one who is ambitious about the economic growth of the village. This is what makes him a villain for the Zamindar, and his evil son – Kancha. Secondly, a 12 year old Vijay, played surprisingly very well by Arush Bhiwandiwala, gets to see his father getting hanged in front of him. THAT is disturbing on so many levels, and defines Vijay's self-destructing motivation towards avenging his father's death. It is a bit unclear how Vijay associated everything against only Kancha in the original.
#2. Vijay, is not an angry man. Amitabh's bare chested challenge to his ganglords to shoot him does not feature here. There are no monologues in a police station, and neither any grand dialogue delivery. Vijay is a very deeply disturbed, miserable and extremely sad man, who has lost his father, been rejected by his mother, and is struggling to reach his goal. And Hrithik portrays it in the most real way possible. There is clear pain in Hrithik's eyes, his stare and even in his body language. Even with a body so big, you can see through the broken heart that he carries around. And you can also see the clear determination in him to prove his point – even when he knows of the dire consequences.
#3. So how do the two Vijays compare? One is the filmy best. But the other is heartfelt, and sort of explains Vijay Dinanath Chauhan's motives clearer. Come next year, I'll be surprised if Hrithik does not take home the awards for this. If acting means immersing yourself into a character, to an extent that the fine line between what's real and what's not, is blurred, then Hrithik's acting of Vijay Chauhan is "acting".
#4. The genre defining moment of Vijay.. Dinanath.. Chauhan.. Poora Naam, is perfectly placed in the new one. Of course, I have been anticipating how they'd treat it, as it has been spoofed way too many times to count. And I will not spoil it for you when it happens, but it is indeed very satisfying.
#5. Rauf Lala. How can I sum up my thoughts about Rishi Kapoor playing Rauf Lala? Ermm.. excellent, brilliant, amazing? Those are mere adjectives, and I'd add some more to that, only if I knew what. I am absolutely loving the different shades of characters that Chintujee has been portraying over the last few years (e.g. Do Dooni Chaar, Luck By Chance, Chintujee, Love Aaj Kal). And this is a brilliant addition to his amazing filmography. Rishi Kapoor makes us believe in Rauf Lala as the gangster who rules Mumbai's drug distribution network. Lala's power, his control and his unforgivably disgusting business of trafficking young girls, is again balanced by his family oriented life, and the trust he has in Vijay. Or is that the whole picture? You've got to watch this to find out. And oh, Shah Ka Rutba has been playing on my Winamp since I have got out of the cinema. That's going to get a lot of hits on Youtube from me when the video releases.
#6. Speaking of videos, the only other song that stands out is – Gun Guna Re, where we see Priyanka's dancing skills in a Dogri chawl mohalla. The track is very catchy, and you can't help tap your foot; more so when Udit jee takes over, and a drunk Vijay tries to ape the dance steps. Some more points for resisting the temptation to not make Hrithik Roshan do some proper dance moves. That'd have been pretty awkward to see Vijay move like jagger. And no, Chikni Chameli is one of those unwanted additives that I was talking about earlier. More of it has already been discussed here.
Special mention to the background score/sound engineer Stephen Gomes for inserting appropriate bassoon sounds, and even cellos. The use of colours in the Ganesh Chaturthi scene was exceptionally pretty, and cinematographer Kiran Deohans's job is very much appreciated.
#7. And speaking of Priyanka Chopra, she's probably the sore thumb of the movie. I get it that she's one of the big league actresses now, and demands a better wardrobe than the extras. But please, only when it suits the movie. Ok, so she runs a Chinese beauty parlour, so is definitely more fashionable. Hmm… still can't digest the fact. I don't see the point in adding a female lead, just so for the sake of it. If I were to design the title poster (in the beginning of the post), her rectangle wouldn't be as wide as the ones of Rishi Kapoor and Sanjay Dutt. And what was with that Nepali vs. Chinese thingie? What was the agenda behind that scene? Am I missing a joke or something?
#8. Coming back to Mandwa, thanks to Karan Malhotra's imagination, it is redesigned by Kancha as a concentration camp – where villagers are enslaved, and their land is used for cocaine plantation. But it is a bit weird to see that Kancha, who has clearly got contacts to get weapons, artilleries, and possibly food distributed for his army, cannot get into Mumbai via any of the neighbouring states. Or perhaps, Rauf Lala's network is more widespread than my imagination. But then, how would I know the operations and project management aspects of a gangster. LOL! [BRB! #Facepalming myself for having that written down, but too lazy to delete it now].
#9. Sanju Baba, is back in his Khalnayak avatar. He has been a social outcast for his alopecia problem, but I don't get the logic behind Kancha's mentally deranged actions – such as hanging anyone that he dislikes, or having a loud laughter (in Hindi we call it "Thahaka") at the drop of a hat, or for not flossing. Maybe, that's what defines him – Kancha is mental! And you cannot define mental. Just as Alfred said, "Some people just want to see the world burn". Kancha wanted to see Mandwa to be his coke-mine. But what he'd do with all that money if he couldn't get out of Mandwa, is a burning question, that I leave open to the floor.
#10. And for the climactic fight between Vijay and Kancha, it is by all means epic. Sanju looks like a beast, who can even handle a bullet through him. And Vijay looks like the rock that can beat the scissors…oh wait…he did get stabbed numerous times. But he rises, and then what a scene!! [It is here, where I started missing my local theatre, when I could hoot a wolf whistle to my heart's satisfaction]. To be noted, Hrithik gets stabbed in the stomach, but when his shirt gets all torn, that knife scar disappears, and with that, any source of bleeding. Minor filmi creative freedom, or huge cinematic fail? You decide.
To conclude: Agneepath is a hell of a movie. The tone is very serious, dark and extremely violent at times. There's slashing of necks, and bullets flying. It is rated 15 for a reason, so don't go expecting a family movie. Hrithik delivers a solid, emotionally charged, and physically punching performance. To me the stand-out moment of Vijay, has to be the one at the end, when after Kancha is killed, Vijay breaks down, to scream out – Babaaa. All his bottled anguish and pain, is released. And with that Vijay's purpose in life is served. It moved me, more than any of the dialogues could. Rishi Kapoor's act as the druglord kingpin Rauf Lala deserves all the awards, and more. I wish Sanju was a little bit less caricaturish, and a bit more real.
OKS Rating: 4 Slashing Machetes Out of 5
Be our Facebook chum here, where we discuss the best and worst of Bollywood. Or follow me on twitter for absolutely wise rants.